The danish Enduro Championship is a very young race series. Because of the danish tax system it was for the younger people just possible to race the Motocross Races. There they could ride Bikes without numberplates what means without taking them on the tax. At the Enduro Races that wasn´t allowed. But two years ago they decided to do that on the Enduro as well because there were only old man racing 😉 and they wanted to have fresh blood into it.
This year there are 6 races, two of them belongs as well to the MX championship so there were much more competitors as at the normal Enduro Races. And of course because for example the Grand National at Viborg as well counts for the Swedish and Norwegian Championship.
But anyway, the Danish Races are so nice to take part of because of all the nice people and because they dont have this big bureaucracy.
Unfortunately they dont have a girls class because there are no danish girls riding Enduro. The few ones they have do MX. But I alredy demanded one for next year 😉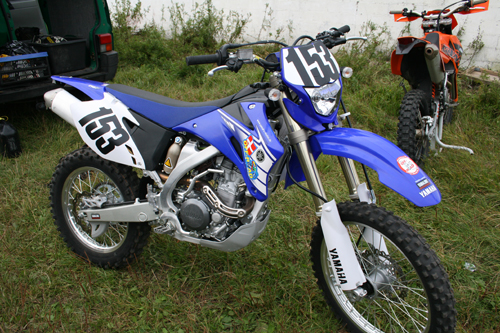 I tried my new Yamaha WR 250F at the weekend and it was so much fun riding it. I just missed my rekluse clutch on it. I´m not used to ride with the normal clutch anymore and in the first lap I stopped the engine nearly 20 times because of that ;(
The track was a nice 10 km lap on a military area with deep sand, up- and downhills and a nice and narrow forest. More pictures you find here.
The fastest guy, Peter Weiss from Danmark overtook me a few times and I could always see how fast he was because it lasts nearly half a round before the next one came.
He leeds the competition and for sure he will win the whole one.
The last race will be at the 7th of october and I will be there as well. It will be close to the german border at Sogaard. On the 6th I will race the german championship at Tucheim and after that drive quick north. And of course for the danish organizers its not a problem when you show up.
Peter Weiss