7.-13. November Merzouga Rally
for all who love the dunes of Marocco.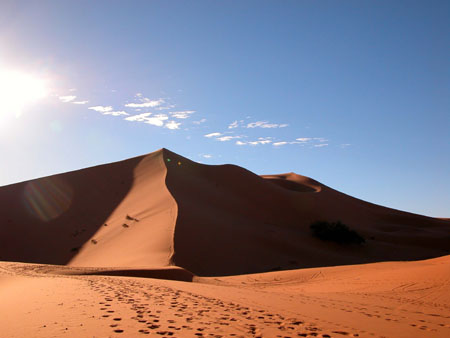 The Concept:

    The Merzouga Rally is a real Rallye Raid! Desert, stopwatch and safety are the key words for this ambitious event…
No invention. Simply the will to bring back a safe and open to everyone race in Africa. Simplicity and good sportsmanship will be put on first level.
The Logistic: 
-The Central Bivouac close to the village of Merzouga has been chosen in order to simplify the logistics and to keep low the registration fees.
-1 helicopter with doctors in the Bivouac ready to fly for any emergency.
-Camp hospital with ambulances to transfer eventually injures riders to the clinic of Er Rachidia.
-5 4×4 cars with doctors dislocated on the race route
-5 organization cars.
-New compulsory tracking system distributed and managed by Sport Traxx.
-Over 30 staff members.
The Prizes:

 
FINO AL 1′ GIUGNO
FINO AL 15 LUGLIO
FINO AL 1′ SETTEMBRE
ISCRIZIONE*
1.590 €
1.690 €
1.790 €
TRASPORTO MOTO
350 €
350 €
350 €
NOLEGGIO MAT. DI SICUREZZA
100 €
100 €
100 €
TOTALI
2.040 €
2.140 €
2.240 €
 
150 di sconto extra
 
 
 
1.890 €
 
 
 
 
 
 
 
 
 
 
NB. Per i concorrenti che si iscriveranno entro il 1′ giugno sconto di 150 euro sul trasporto della moto. (primi 20 iscritti solamente)
Read more information on www.merzouga-rally.com